Posted by The Salt Box on 28th Feb 2018
The benefits of natural salts for beautification have been lauded in cultures around the world for thousands of years. From the Himalayas to the salt flats of Namibia and all the way to the Dead Sea in the Middle East, natural salts have been utilised in aromatherapy and medicine. But it's their place in beauty regimens that have earned them a rapturous reputation. A full body scrub, a long warm bath filled with detoxifying minerals or a smoothing facial exfoliant, natural salts are an excellent addition to your bathroom cabinet. And when used as an all-natural face scrub, they really shine.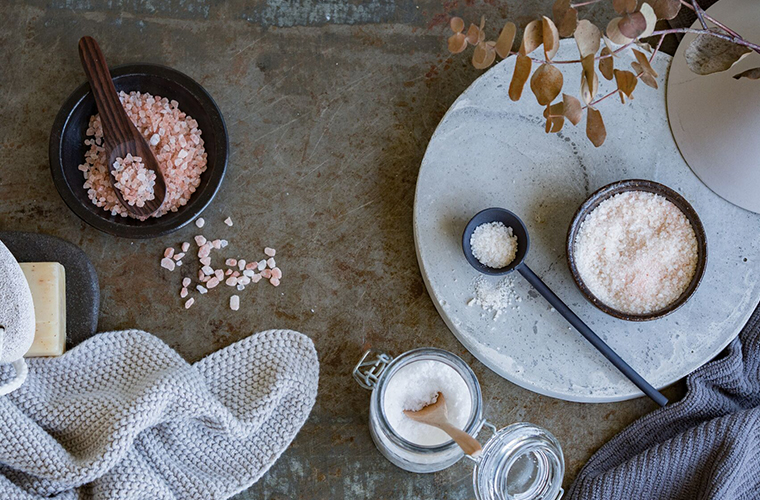 Natural salts have earned a rapturous reputation for their cleansing and detoxifying properties, and have been used in beauty regimens for thousands of years. Here's how you can use them for making all-natural face scrubs.
What Are The Benefits of Using Natural Salts In Your Beauty Regime?
Over the course of the day, our skin is subjected to the grit and grime of the outside world. Dead skin cells and bacteria can cause blockages in our pores, causing us to break out, and for skin to appear dull as toxins are trapped under its surface.
Exfoliation is the most effective way to remove these blockages and debris to reveal the naturally soft, clean skin below. While there are plenty of cheap options out there, synthetic beads and particle-filled substances can be packed with parabens, plastics and other nasties. These are terrible for the environment and can dry the skin.
A better alternative is using natural salts to invigorate your skin, stimulate blood circulation and shift dead skin cells and blemishes. By boosting circulation, the appearance of fine lines and wrinkles is reduced, and the dulling effect of dead particles on the skin's surface is combated for a glowing and radiant complexion.
By using your own oils and balms with natural salts you can also evoke a sense of calm, vitality or energy depending on the combinations you use; mixing aromatherapy with your beauty routine is the perfect way to relax and refresh your skin at the same time!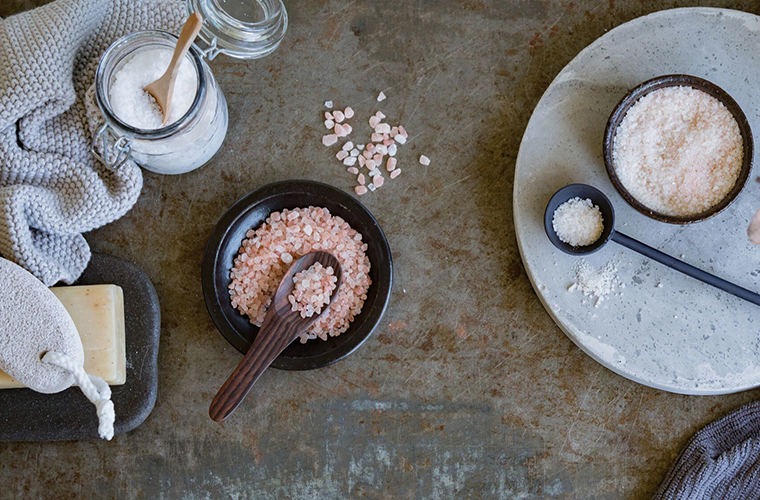 How Can I Integrate Natural Salts Into My Beauty Routine?
A great way to integrate natural salts into your lifestyle routine is to create a holistic facial. Add a spoonful or two of natural salts (combined with natural oils if you choose) to hot water in a clean basin and hover your face over the water, allowing the steam to open your pores and detoxify the skin.
Follow this with a scrub made using a combination of natural oils, raw honey or balms and your choice of natural salt to help shift impurities and imperfections and get the blood moving on the skin's surface.
Followed by your favourite natural moisturiser or a spritz of calming rose water, this salt-based facial is a magnificent way to transform your skin after a rough day or to give yourself a bit of TLC.
Be aware that grains of salt that are too rough, large or sharp can damage the skin, so ensure that the salt you are using is fine in consistency. Most sea salts will come in this variation.
Types of Natural Salt That Have Benefits for Skin
There are plenty of different natural salt varieties avaliable, each with different properties, and thus benefits, for your skin.
Himalayan Bath Salts: Himalayan pink bath salts aid in detoxifying the bloodstream, cleaning the skin and refreshing the senses.
Dead Sea Salts: Dead Sea salt is an incredible face scrub. When moved in smooth circular motions across problem areas the appearance of blemishes and irregular skin tone are all reduced. With all natural salts, their ability to absorb the scents and healing properties of essential oils is phenomenal, an ordinary salt can be transformed into a special gift, or a treat for your beauty session.
Hawaiian Black Lava Salt: Hawaiian black salt contains activated coconut charcoal, which is a natural detoxifying agent and will help remove impurities in the skin. As a scrub, it draws out dirt and oils and is a great way to naturally fight problem skin.
Hawaiian Red Salt: Hawaiian Red Salt is sea salt that has been infused with volcanic Alaea clay, which contains naturally-occurring trace minerals that have powerful detoxifying properties. The clay naturally draws out dirt and impurities and is excellent in a scrub.
Using a natural salt scrub for your face is a great way to detoxify, reap the benefits of aromatherapy, and shift bacteria and dead skin from clogged pores for a refreshed and glowing complexion.
Whether it be the moist and crumbling textures of Dead Sea salt or the dazzling hue of Himalayan pink, natural salts are versatile and can be used for any number of your beautification regimes.