Posted by The Salt Box on 27th Jul 2018
We are delighted to be showcasing our new range of salt-based gift products at the 2018 AGHA Melbourne Gift Fair this August. Salt is the new black. Whether used for cooking, pampering or therapy, natural salt gift products are winning the hearts and minds of foodies, and health and beauty consumers alike.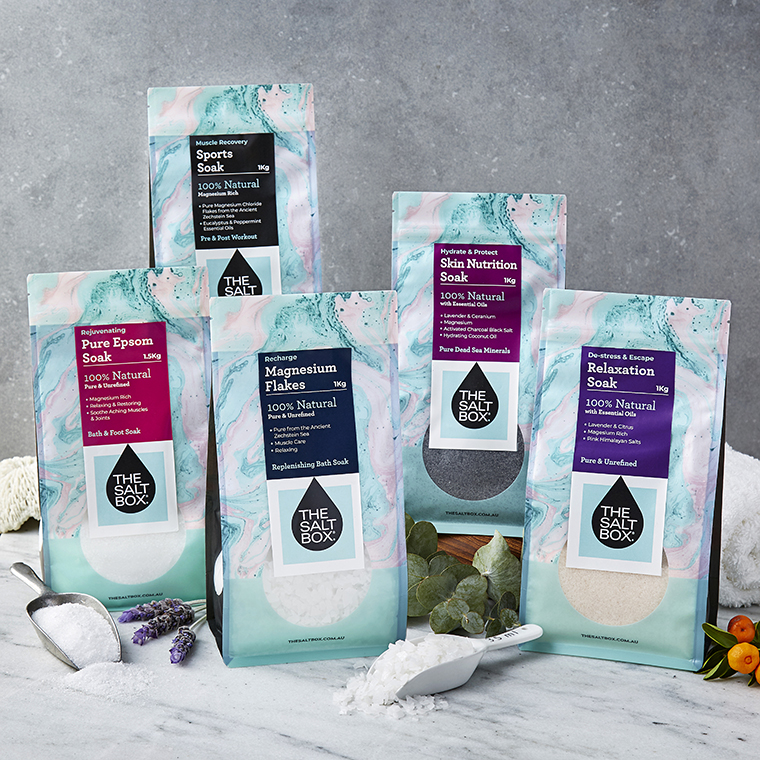 Salt is the new black! Discover the exciting world of salty gifts from The Salt Box at this year's AGHA Melbourne Gift Fair.
Since launching in 2011, we have drawn on our passion and wealth of knowledge of all things salt to offer the widest range of gourmet food and luxurious bath salts in Australia. Marked by gorgeous packaging, these products have been created to meet a growing demand from consumers.
Foodies will go crazy for over 30 all-natural gourmet food salts to choose from. The Salt Box gourmet food range includes sets for every palate. From the BBQ Gift Set (including Smoked Applewood, Hickory and Habanero salts), Smoky Gift Set (including Applewood, Hickory and Extra Bold smoked salts) and Fiery Gift Set (including Habanero, Scorpion and Sriracha salts). Other sets for cocktails, fish, vegans, foundation salts and more are also available.
For cooks looking to add a little adventure to their kitchen experience, our Himalayan Pink Salt blocks are the ultimate new tool to try. Use them to cook on the BBQ or serve sushi. These beautiful pink rock blocks are sure to be a talking point and create lasting memories.
The Salt Box luxury bath range includes a set of beautifully packaged bath-salt gift boxes in three varieties. Made with a 100% natural blend of salts and essential oils, this range is also offered in 1kg gift bags.
"We believe that salt is an ingredient that matters – for nutrition, therapeutic purposes and for the soul," says Rowena Frith, Managing Director of The Salt Box.
"Salt is the world's most essential nutrient and it gives us the minerals we need to survive. From the exquisite taste sensation of natural black truffle salt, to the rejuvenating experience of a magnesium chloride bath, natural salts are to be celebrated."
The Melbourne Gift Fair will take place at Melbourne Convention & Exhibition Centre (MCEC) from August 4-8. You can find us in the Unique & Boutique section, located in the Sovereign Room, Stand H49. We hope to see you there!
For more details click here.