Posted by The Salt Box on 5th Sep 2018
After months of searching far and wide for the finest natural products avaliable, we are extremely excited to introduce to you our brand new range of 100% natural bath salts!
We think there is no better way to relax and recover than taking a long soak in rich mineral salts and luxurious essential oils. Take a look at the new range and discover the wonderful things they can do for you.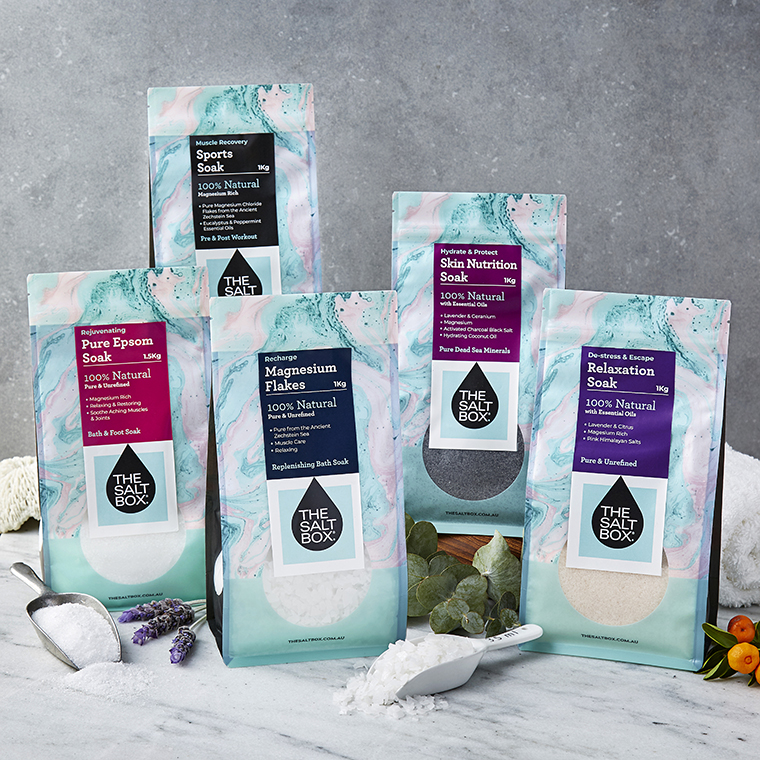 Say hello to our new range of luxurious 100% natural mineral bath salts!
Whether you are looking for a way to pamper and revitalise your skin, relax and unwind after a long day at work, or revive sore and tired muscles after a gruelling workout, our new range of 100% natural bath salts will leave you feeling refreshed, revitalised and 100% you.
Skin Nutrition
Pamper your skin with a luxurious blend of mineral salts, coconut oil and soothing essential oils.
This magnificent concoction contains a cleansing blend of dead sea salts, magnesium sulphate, activated charcoal black salt to help clear your pores and leave your skin feeling fresh and clean. Meanwhile, the natural anti-bacterial and anti-fungal properties of coconut oil help to soothe, soften and hydrate the skin. And to top it off, lavender and geranium essential oils help calm and relax the body and mind.
Take a look at the skin nutrition soak.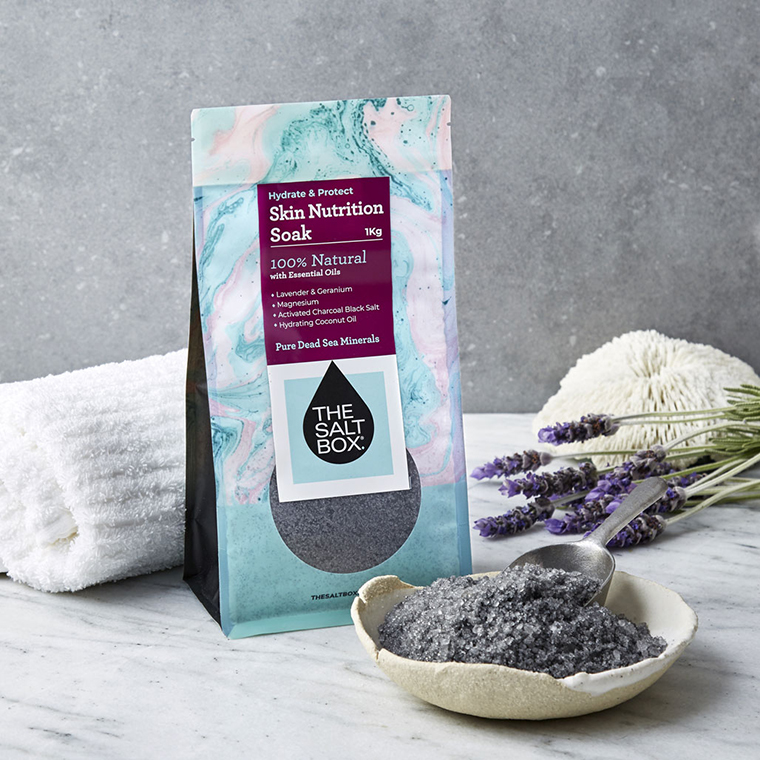 Relaxation Soak
Unwind and prepare for sleep with a delightful blend of magnesium mineral salts and aromatic essential oils.
There are few better ways to relax after a tough day at work than taking a long, warm bath, and our Relaxation Soak is the perfect accompaniment for when you do. This beautifully balanced blend of magnesium sulphate and pink Himalayan mineral salts help to cleanse and detoxify your body, while a delicate combination of lavender and citrus essential oils help to release any stress that has been building. Talk about a spa-like experience at home.
Take a look at the relaxation soak here.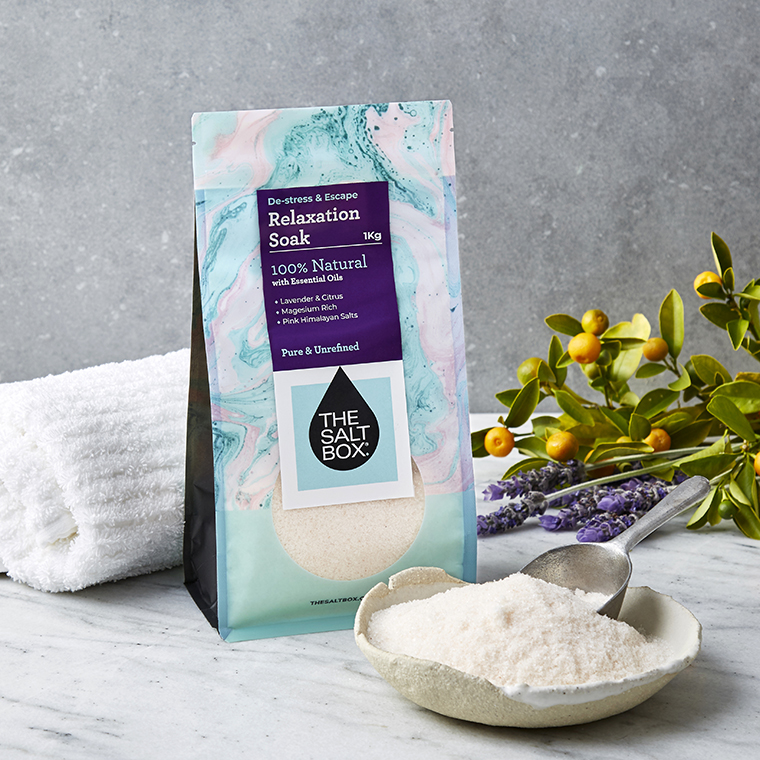 Sports Soak
Recharge your overworked muscles with a revitalising blend of magnesium chloride and refreshing essential oils.
Forget the ice bath, mineral soaks the are way to go for post-workout recovery. This invigorating blend of magnesium chloride flakes and refreshing essential oils help boost the muscle recovery process and restore energy levels after exercise. Magnesium is an essential mineral that plays an important role in muscle recovery by stopping inflammation, replenishing red blood cells, and reducing cramping and spasms. Combined with natural eucalyptus and peppermint essential oils, a soak with leave you feeling refreshed and rejuvenated.
Take a look at the sports soak here.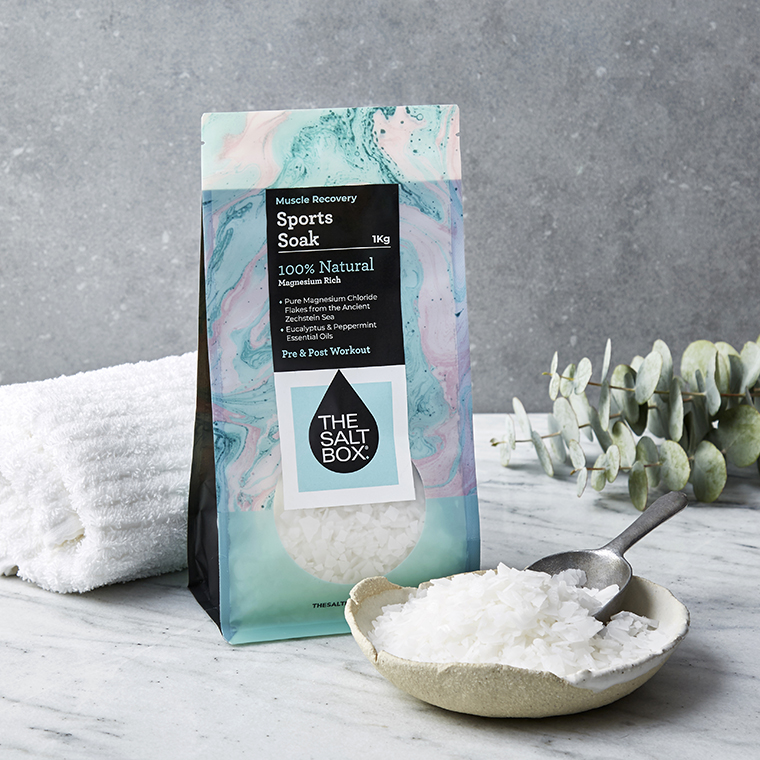 Pure Epsom Soak
Relax and restore with 100% natural, pure and unrefined Epsom salts.
The health benefits of Epsom salt have been enjoyed across the world for centuries. A naturally occurring compound of magnesium and sulphate, this wonderful mineral helps relieve aching muscles and joints, soothe bumps and bruises, revive tired feet and so much more. Our Epsom salt is sustainably sourced in Germany from the world's purest sources and is completely unrefined. Use it in a relaxing bath, foot soak or as a topical paste.
Take a look at the pure Epsom soak here.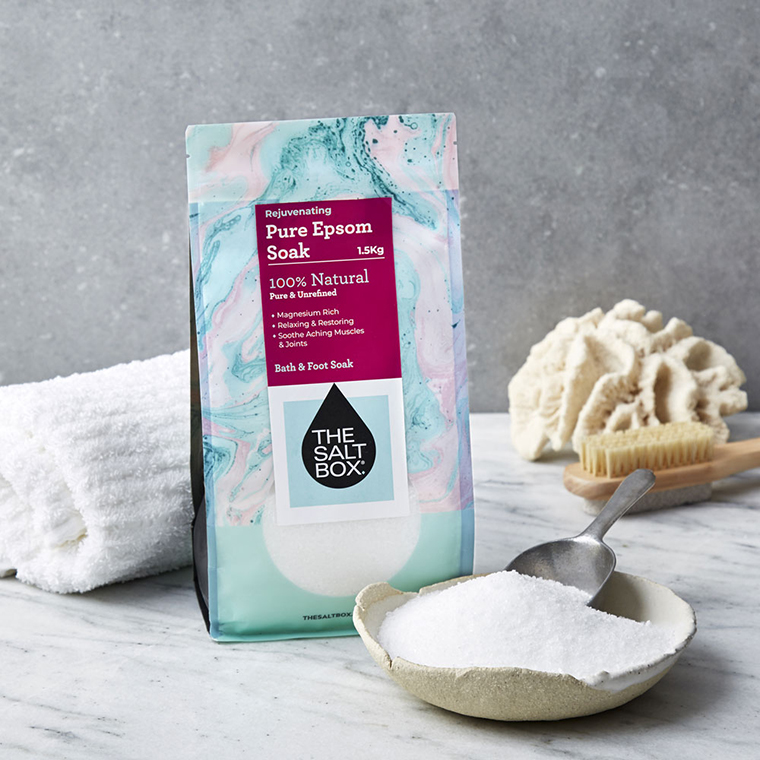 Magnesium Chloride Flakes
Replenish magnesium levels with a magnesium chloride soak.
Magnesium is an essential mineral for overall health and wellbeing. It is responsible for over 300 biochemical functions in the body, but it's also one of the most common mineral deficiencies found in adults, so soaking in a magnesium rich bath is a great way to supplement your daily intake. This can help with everything from reducing inflammation to remove toxins and heavy metals at a cellular level, leaving you feeling recharged and at the top of your game. Our magnesium flakes sourced from the Zechstein Sea are known for their purity and quality, ensuring you're using only the best natural product.
Take a look at the magnesium flakes here.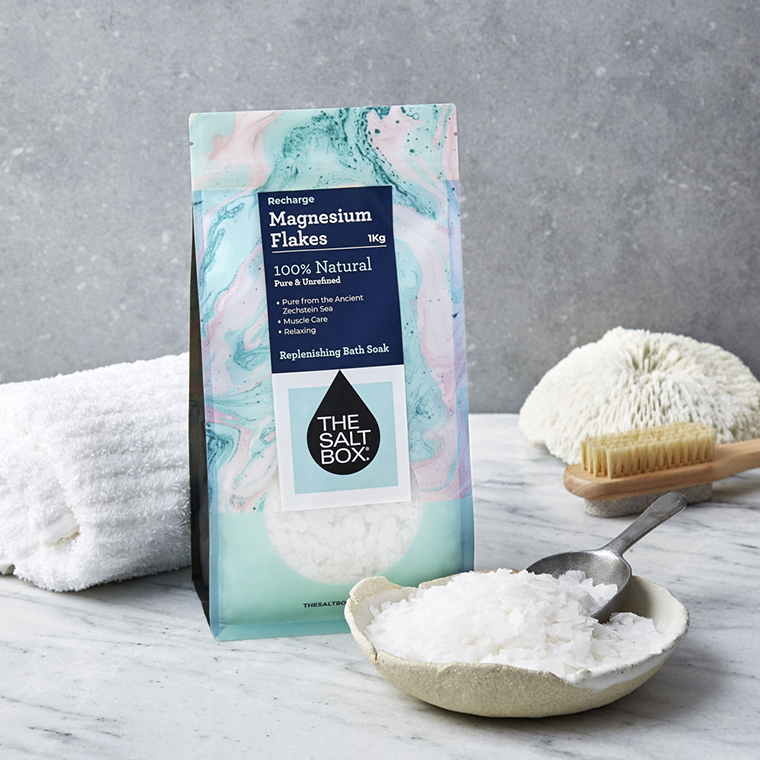 The New 3kg Range
We will also now be stocking 3kg options for our pure Epsom Salt and Magnesium Chloride flake products, so you won't have to worry about running out!
How To Use Our Bath Salts
Bath salts are incredibly easy to use. Simply add the salts to a warm bath and soak for 15 to 20 mins. However, be sure not run your bath too hot as this can disrupt the efficacy of the minerals.
About The Salt Box
Here at The Salt Box, we are obsessed with supplying our customers with the best natural products available. We source the finest minerals from around the world and pack them right here in Australia to ensure what we sell is of the highest quality.
We believe bath salts are one of the best (and most inexpensive) ways to soothe, pamper and heal the body and mind.