Posted by The Salt Box on 30th Aug 2018
Whether you're looking for an all-natural addition to your current beauty routine, a powerful way to restore and recharge after a workout, or soothing relief from inflammation and other skin conditions, nothing beats a long soak in mineral-rich bath salts.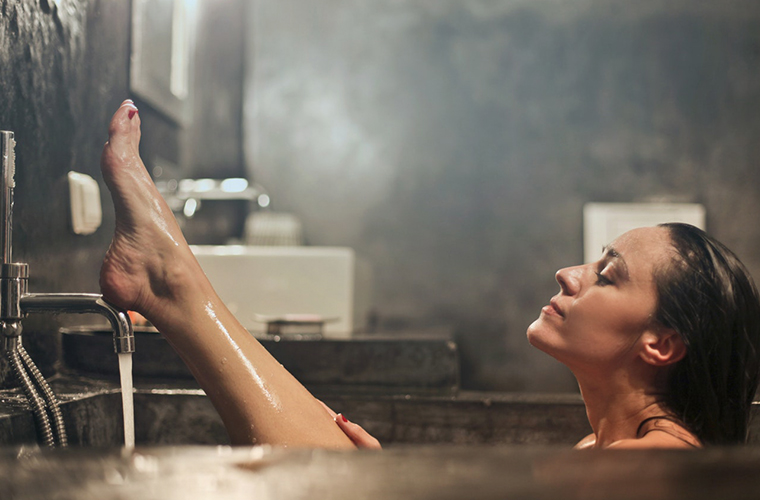 Magnesium flakes and Himalayan pink salts are both powerful rejuvenating and beautifying minerals. Combined they are truly magnificent.
There's a whole world of wonderful bath salts out there to discover, something we here at The Salt Box are eager to help you explore. Epsom salts have been praised for years for their rejuvenating qualities, as have mineral salts from the Dead Sea. More recently, magnesium flakes and Himalayan pink mineral salts have been revered for being wonderfully rejuvenating, detoxifying and beautifying, and are becoming extremely popular in health and beauty. Let's take a look at the benefits of these magnificent minerals.
The Benefits of Magnesium Flakes
Magnesium flakes are the new black in health and beauty, with everyone from personal trainers to beauty influencers recognising their huge array of uses.
Magnesium is an essential mineral that plays an important role in over 300 biochemical functions. It it is required by almost every cell in our body, yet it is also one of the most common deficiencies in adults and many heath professional recommend supplementing what we consume in our diet. A great way to do this is by taking a long soak in a magnesium-rich bath, allowing the mineral to be absorbed transdermally. This has a range of benefits:
For Beauty - A magnesium flake bath will help:
• Reduce inflammation in the skin
• Remove toxins and heavy metals at a cellular level
• Improve circulation and blood flow
• Soothe skin conditions like eczema, acne, psoriasis and dermatitis
• Improve skin hydration
For Muscle Recovery - Magnesium is also extremely important for muscle recovery and is great for use after a workout or a long day at work. When you exercise, magnesium is consumed rapidly, used to conduct electrical impulses and action potentials, such as the contraction of a muscle. When you stop exercising, magnesium prevents muscles from cramping and spasming, replenishes red blood cell, and reduces inflammation. The most efficient way to restore magnesium levels is to soak in a magnesium flake bath.
The Benefits of Himalayan Pink Salt
Himalayan pink salt is one of the purest of all salts and is an excellent source of natural minerals including calcium, magnesium, copper and iron amongst some 80-plus more. All of these minerals have powerful benefits for the skin and body.
Clear away dead skin, dirt, oils and imperfections: Himalayan pink salt has powerful antimicrobial and antibacterial properties that help cleanse and purify the pores by driving out oils, dirt and other impurities.
Improve circulation: Pink salt can increase blood circulation at the skin's surface, promoting skin rejuvenation and cellular renewal and the release of toxins.
Fight off ageing free radicals: The minerals found in Himalayan salts help fight oxidation in skin cells by eliminating free radicals, helping your skin looking younger and more vibrant.
Detoxify: Through the process of reverse osmosis, these salts also help to cleanse the body of the harmful toxins we are exposed to everyday.
Our New Revitalise Mineral Bath Soak
We have just launched our new revitalising Mineral Bath Soak featuring magnesium flakes from the Ancient Zechstein Sea (the purest in the world) and Pink Himalayan mineral salts, combined with citrus and bergamot essential oils. The rejuvenating qualities of the magnesium paired with the detoxifying properties of Pink Himalayan minerals makes for a magnificently nourishing combination. Add to this the therapeutic experience of soaking in essential oils and what you get is an ultra luxurious spa-like experience. Best of all? It's 100% natural!
The Revitalise Mineral Bath Soak will be exclusively available at the new Costco location in Epping, Victoria, which will be holding its grand opening on the 29th of August. Not to worry though, it will be available in all Costco stores across Australia before Christmas, we promise.
Find out more about it here.